Full Day Kindergarten & Kindergarten Enrichment Programs
Kindergarten Corner
Smaller Classroom Size / More Flexibility for Our Kindergarten Children
Castle Academy is licensed by the Pennsylvania Department of Education for a full day kindergarten program.
While we mimic the lessons of the local school district curriculum, we are not governed by the local school district's board of educators. Our teachers do have the flexibility to adapt their Kindergarten program to fit the strengths and weakness of each child.
Our Kindergarten Program is a FULL day program; starting at 9 AM and ending at 3 PM. Kindergarten children that require longer care will enjoy various enrichment activities, including academic sheets, library and computer time, art, puzzles and outside free time.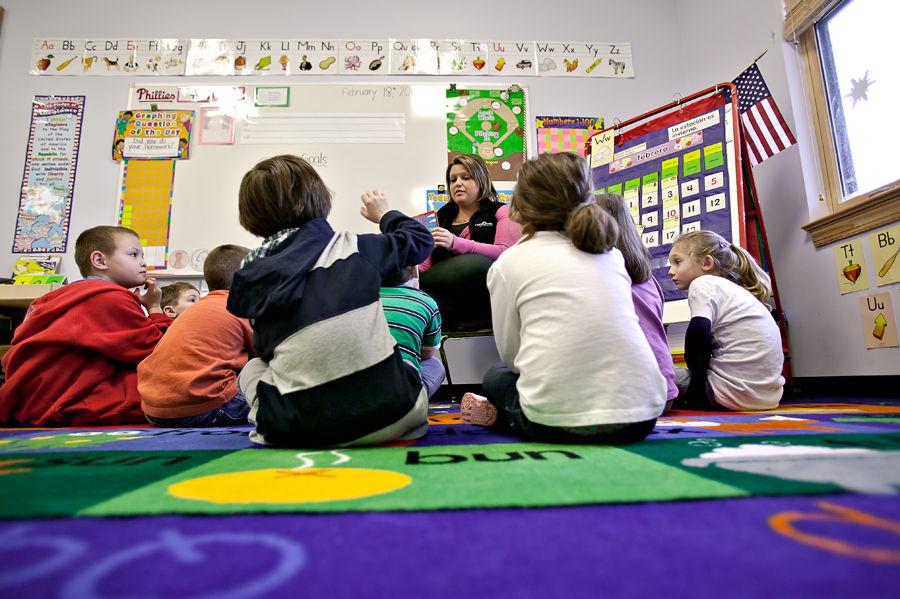 We do offer an program we call Kindergarten Enrichment, it's for those children that attend the public school and need further care either in the morning or afternoon hours. The children enrolled in Castle Academy's Kindergarten Enrichment Program will continue to extend their academic learning and will have plenty of free play to end their school day.
One very important point we are proud of is the way our Kindergarten mirrors both the North Penn and Souderton School District Kindergarten Program as well as the Perkiomen Valley School District's Kindergarten Program.
Our Kindergarten Curriculum
Math – Singapore Math
Language Arts
Language – Fundations
Reading – Okapi
Handwriting
Science – K Science
Social Studies
In the morning we cover Language Arts and Math. In the Afternoon we cover Science, Social Studies and Handwriting
Our full day Kindergarten students will enjoy field trips to local businesses to support their monthly themes.
There's plenty of time and flexibility to breakout into small groups to review and go into greater depth for those Kindergarten children who need additional practice or more challenges.
Weather permitting our Kindergarten children go out and play on our large playground equipment twice a day. It a great time for them to relax and have fun and burn off that extra energy children endure.
Kindergarten Development Goals
Social/Emotional Goals
Functions with increasing independence in school
Knows difference between adults who can help (family members,friends,staff) and those who may not (staff)
Is increasingly able to manage own feelings
Takes action to avoid possible disputes over rights
Carves out and completes own task without adult assistance
Understands the importance of self-help skills and their role in healthy living
Begins to take responsibility for care of the classroom environment
Follows and understands the purpose of classroom procedures
Follows and understands reasons for classroom rules
Maintains ongoing friendship with at least one other child
Recognizes what another person might want or need
Shares and defends the rights of others to a turn
Engages in a process of negotiation to reach a compromise
Language Development
Hears and repeats separate sounds in words, plays with sounds to create new words
Uses more complex sentences to express ideas and feelings
Follows directions with more than two steps
Answers questions with details
Asks increasingly complex questions to further own understanding
Initiates and/or extends conversations for at least four exchanges
Chooses to read on own, seeks information in books sees self as reader
Knows each spoken work can be written down and read
Beginning to make letter-sound connections
Uses different strategies to make meaning of print
Retells a story including many details and draws connections between stories and events
Writes to convey meaning
Uses letters that represent sounds in writing words
Cognitive Development
Observes attentively and seeks relevant information
Finds alternate solutions to problems
Works on task over time, leaving and returning to complete it
Explains plans for testing cause and effect, and tries out ideas
Generates a rule, strategy, or idea from one learning experience and applies it in a new concept
Sorts objects into groups/subgroups and can state reason
Understands/uses measurement words and some standard measurement tools
Through trial and error, arranges objects along a continuum according to two or more physical features
Creates complex patterns of own design or by copying
Associates events with time-related concepts
Shows understanding that positional relationships very with one's perspective
Uses one-to-one correspondence as a way to compare 2 sets
Counts to 10 or so connecting number words and symbols to objects counted and knows the last number describes the total
Engages in elaborate and sustained play
Uses make believe props in planned and sustained play
Plans then creates increasingly elaborate representations
Physical Development
Moves with direction and coordination
Walks forward easily, and backward with effort, along a wide beam
Climbs and plays easily on ramps, stairs, ladders, or sliding boards
Rides with speed and control
Throws and kicks at target and catches with increasing accuracy
Manipulates a variety of objects requiring increased coordination
Manipulates materials in a purposeful way, planning and attending to detail
Copies and draws simple shapes, letters, and words including name
Kindergarten Enrichment Program
Supporting our local elementary school's half day sessions as well as General Nash Elementary in North Penn and Oak Ridge in Souderton
We work closely with the school district to ensure that we are an extension of the program they are familiar with. The teaching staff in the Enrichment program realize that the children attending Castle Academy either before or after their elementary school day need to support the school district's curriculum to reinforce and further develop the skill they are being taught on a daily basis.
Our Kindergarten Enrichment program lessons are educational, challenging and fun!
"Children are our biggest investment and most prized possession and no words can truly express how appreciative I am. Let's just say – I will be forever grateful."
Steps to our community
As you schedule your childcare center tours, it is important to find a good fit for both you and your child. We recommend touring multiple centers, so you when you make that decision to enroll you are confident that the chosen center is a good fit for your family and meets all your needs.
When you come in for a tour at Castle Academy you will see an atmosphere of highly engaged teachers with their students. Experience  our state of the art facility, meet our teachers and our Administrator staff including John and Tracy Castle (the owners) and feel free to ask as many questions as you like. It's important to us that parents feel confident when choosing a childcare facility.
From the moment you arrive at Castle Academy you will experience the warmth, love and attention we provide to our children's' safety, well being and education.
Selecting the best early childhood learning center for your child is one of the most important decisions you will make. We invite you to explore the Castle Academy Early Childhood Experience… Today!
Ready to Schedule a Tour?